Contact
Use the form below to reach me via email, or if you wish to use your own email program, send a message to amanda@amandaDRIFTS.com. Because of my busy schedule, I may not be able to respond to all messages I receive. Thanks in advance for your patience.
If you come across an error on the site, please contact webmaster@amandaDRIFTS.com, instead!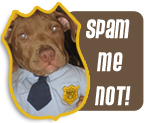 Cookie is watching you.
If there's one thing that Cookie won't take, it's spam. Please do not use this form to send me messages about your uncle in Nigeria who has money or the newest male enhancement drug or even asking me to update my password or the best poker site (unless it's PokerRoad.com) or whatever else cooked up scheme you might have. I won't fall for those and Cookie won't either.