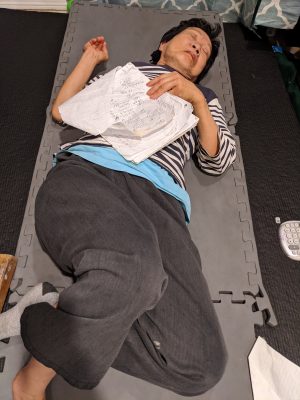 Tuesday, May 26, 2020
My Mom can literally fall asleep anywhere. I have caught her falling asleep on the toilet, on the kitchen counter, on the floor, outside, she is equal opportunity. She is a handful but grateful I have her in my life. Here she is guarding the potentially winning lotto numbers.
Thursday, May 15, 2014
Better late than never. Big thanks to all my cousins and their plus ones for coming on short notice. I really appreciate it! Thanks for dinner Trinh!! 🙂
Sunday, August 29, 2010
Look what BeDea & I got for my Mom! It's a Can Do Digi Flex Hand Exerciser to help my mom progressively gain movement in her hands. This item was highly recommended & used by my Mom's physical therapists.