Wednesday, December 8, 2021
I swear when I saw Takashi's (from Mastermind) Trueno I initially thought of Initial D. Takashi's Trueno is so georgeous. He was telling he how half of the car has dry carbon, was sent to Japan for paint and recently driven by the drift King himself. My butt sat in the same seat as the […]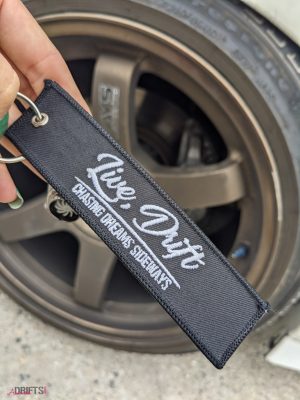 Wednesday, June 2, 2021
I love the old school and chilvarily in the drift community, where everyone helps each other out because of our shared passion for going sideways. Case in point at my first drift event in over 3 years, I met Randy, he was so helpful in teaching me about my car, giving me ride alongs and […]
Wednesday, June 2, 2021
Apple Valley Speedway has been on my bucketlist for awhile now. I decided to say f it and just go. I am so rusty, need to managee more, feather the gas, go faster and stop being a 😸. With more seat time I will improve my drifting skills. I can't wait to get back in […]
Wednesday, January 12, 2011
I love my white S13 hatch drift car a.k.a. Michelle or PrettyS13. So, it saddens me that she has been sitting in the driveway for the last 2 months collecting dirt and rain. Plus, I've been wanting to drive her around. Finally, I was able to change the flat tire on Michelle. Thanks RayBabes for […]
Saturday, September 25, 2010
Why is it that when you walk into Costco to pick up 1 or 2 items you end up picking up more than you wanted or needed? Tis tis.. that's why I call Costco the evil store because I love the store but hate it sometimes. Everything is so affordable so I keep picking up […]
Saturday, September 18, 2010
Ever since we saw Fox 11's segment about Gold Class Cinema in Pasadena, CA a few months ago Ray & I have been dying to go. Luckily, Ray had some free time off of his busy work schedule to go. He loves the place & I like it too just wish we didn't spend $110 […]
Friday, July 30, 2010
There's this new drifting event on friday nights at Irwindale speedway parking lot hosted by Riley & his crew. It was great seeing new people except for the other 64 drivers causing the line to be long. I only got to do 2 runs.. grrr! However, I would go back there drifting again if they […]
Wednesday, June 2, 2010
At the last 626 drift event I tried to do this gangster line & hit this one bump really hard & it bent my tie rods. I didn't think anything of it until Ray drove my car & said it was off. So, he bought me new Dmax tie rod & tie rod ends. Now […]
Saturday, May 8, 2010
How COOL would it be to have glow-in-the-dark wheels? I forgot who brand these are but I saw these wheels for sale on zilvia.net & thought it was worth a mention. So baller!
Thursday, May 6, 2010
Look at these awesome photos of me & Ray Team Top Flight took of us. Thanks Deb & Bradley! Check out their blog for the rest of the coverage from the Ladies Drift Aesthetics.
Friday, November 13, 2009
Dammit, just got word that the registration on the hatch is overdue! Wow, $34 late fee. Plus, I gotta get the car smogged… 🙁